Nickel Aluminum Bronze Casting components Manufacturer in China
Baoding Guokun Machinery can manufacture and trade various Nickel Aluminum Bronze Alloy Casting Parts, used for aerospace, marine, oil & gas industry, such as bushings, bearings, wear plates, and hydraulic valve components.
The normal nickel aluminum bronze alloy we use is ASTM B148 UNS C95800 or 9-4-4-2, famous for its corrosion resistance, especially for salt water corrosion. The chemical composition and mechanical properties of C95800 are as follows:
ASTM B148

UNS C95800

Chemical Composition

Mechanical Properties

Copper          79.0% min    

Aluminium    8.5-9.5%

Nickel           4.0-5.0%

Iron              3.5-4.5%

Manganese   0.8-1.5%

Lead              0.03% max

Silicon           0.10% max

Tensile Strength: 585MPa Min

Yield Strength: 240MPa min

Elongation: 15% min
The casting process for Nickel Aluminum Bronze Alloys:
Bronze Centrifugal Casting: Bushing, bearings, sleeve, flange bushings, etc
Brass Sand Casting: complex structure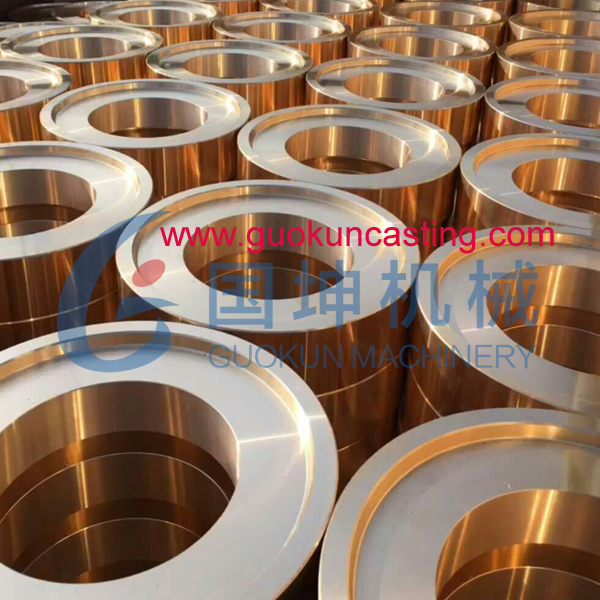 So if you need to buy nickel aluminum bronze alloy casting parts, Nickel aluminum bronze centrifugal casting, nickel aluminum bronze sand casting components, marine bronze castings, aerospace bronze casting parts, please contact Baoding Guokun Machinery Co., Ltd via gina@guokuncasting.com or call us 86-18132789710.