Baoding Guokun, sand casting foundry in Baoding, China, uses sand casting process to manufacture a wide variety of metal products for many different industries, such as pump systems, valve, pipeline, heavy machinery, automotive replacement parts, agriculture components, etc. These sand casting parts are high quality and very cost effective.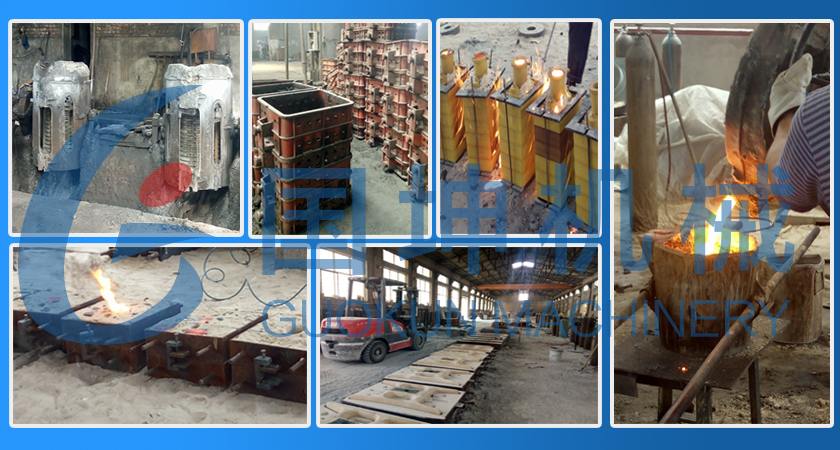 Metal:
Sand casting, the most widely used casting process, utilizes expendable sand molds to form complex, metal parts that can be made of nearly any alloy. Baoding Guokun casting factory can offer the custom sand casting in the following metal:
Gray iron sand casting, such as ASTM A48/48M, ASTM A159, BS EN 1561, DIN 1691, etc

Ductile iron sand casting, such as ASTM A536, BS EN 1563, GB/T 1348-1988, etc

Carbon steel sand casting, such as ASTM A29/A29M(1030, 1040, 1045, 1050, etc)

Alloy steel sand casting,  such as SAE J1249 (4140, 4340, 8140, 8630, etc)

Stainless steel sand casting, such as ASTM A959 (304, 316, 316L, etc)

Aluminum sand casting, such as ASTM B85-96(ASTM A356, A360, A383), JIS H5302:2000(ADC10.1, ADC12, etc), GB/T 15115-1994(YL102, YL112, etc)

Bronze sand casting
Sand casting process: six steps
Place a pattern in sand to create a mold

Incorporate the pattern sand sand in gating system

Remove the pattern

Fill the mold cavity with the molten metal

Allow the metal to cool.

Break away the sand mold and remove

Sand casting's advantage and disadvantage
Advantage
Can produce a very large parts

Can form complex shapes

Many material options

Low tooling and equipment cost

Scrap can be recycled

Short lead time possible
Disadvantage
Poor material strength

High Porosity possible

Poor surface finish and tolerance

Secondary Machining often required

Low production rate

High labor cost
Application of sand casting process
Sand casting is used to produce a widely variety of metal components with complex geometries. These parts can very greatly in size and weight, ranging from a couple ounces to several tons. Some smaller sand cast parts include components as gears, pulleys, crankshafts, connecting rods, and propellers. Larger applications include housing for large equipment and heavy machine bases. Sand casting is also common in producing automobile components, such as engine blocks, engine manifolds, cylinder heads, and transmission cases.