Lathe Part Casting
Baoding Guokun is China sand casting foundry, investment casting factory and precision machining shop for customized casting components for track, tractor, railway casting, train parts, agriculture or farm machinery, tillage casting, tool casting, marine casting parts, mining, construction machinery, valve or pump castings, pipe fittings according to customer's drawings or samples.
Lathe machine casting part's details:
Part name: lathe machine casting parts, iron casting lathe parts, sand casting lathe components, custom casting lathe parts, customized lathe parts, cast iron lathe bases
Manufacturing process: sand casting, green sand casting, resin sand casting, shell mold casting, precision machining
Casting tolerance: CT8-CT12
Metal: cast iron, grey iron, gray iron, ductile iron, S.C iron
Weight controlled: Within 25,000 kgs
Surface treatment: Painting, casting surface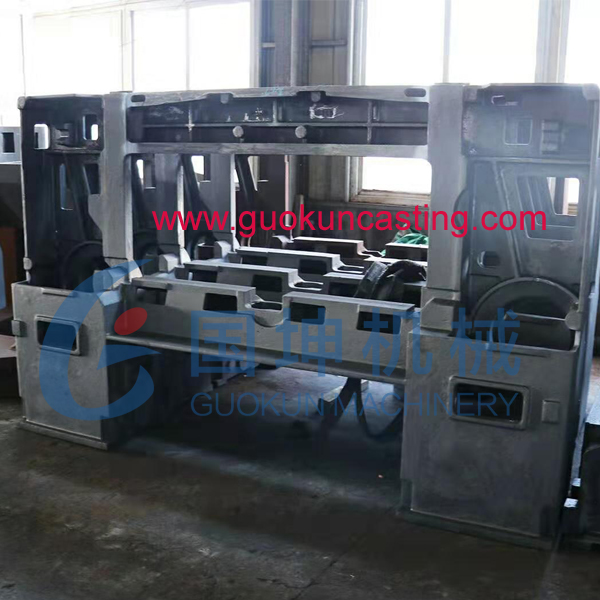 Baoding Guokun casting factory have complete quality inspection equipments for dimension testing, mechanical properties and chemical analysis. ISO 9001 certification can help us to issue all quality reports for all inspection. The testing machinery we have is spectrometer, hardness tester, metallographic inspection, tensile strength testing, ultrasonic testing, CMM.
If you need Lathe part casting, iron casting lathe parts, lathe machinery components, CNC Lathe casting, metal casting lathe parts, sand casting lathe parts, lathe parts China factory, Lathe components China company, please mail your inquiry to gina@guokuncasting.com or gina.guokun@gmail.com or call us 86-18132789710.