Iron Casting Lathe Parts
Baoding Guokun is the professional China sand casting and precision casting factory for iron casting lathe parts, cast iron lathe body, cast iron lathe base, cast iron back plate, cast iron legs, and other customized casting lathe parts as per customer's drawings, requirements or samples.
Product name: Iron casting lathe parts
Product material: cast iron, gray cast iron, ductile cast iron, S.G iron, grey iron, such as ASTM A48, ASTM A536, etc
Casting process: sand casting, shell molding casting, green sand casting, resin sand casting, investment casting, and precision machining to your required dimension and tolerances.
Lathe component name: casting lathe base, casting lathe blank, casting lathe body, etc
| | | | | |
| --- | --- | --- | --- | --- |
| Item | Green Sand casting | Resin sand casting | Precoated Sand Casting or shell mold casting | Automatic Molding Line |
| Process | Green Sand Casting is the common sand castings made using wet sand or "green sand" molds. | Resin sand casting process is using the resin sand as the molding material. Resin sand is a kind of mixture of quartz sand and resin | The main molding material is the pre-coated phenolic resin sand, which is more expensive than green sand and furan resin sand. | Green sand molding line & resin sand molding line |
| Advantage | Usually for large steel castings and iron castings. | Suitable for custom castings with rough surface requirement and low unit cost. | high dimensional tolerance, good surface quality, and less casting defects | High production rate, only suitable for small & medium castings, require annual quantity |
| Casting Tolerance | CT11-12 | CT10-11 | CT8-9 | CT10-CT11 |
| Surface | | | | |
| Weight | 5000kgs max. | 5000kgs max | 50kgs max | 10-50 kgs |
| Metal | Cast steel, Cast Iron, cast aluminum | Cast iron, Cast steel,cast aluminum, bronze | Cast steel, Cast Iron, cast aluminum, bronze | gray iron, ductile iron casting |
Baoding Guokun casting factory have complete quality inspection equipments for dimension testing, mechanical properties and chemical analysis. ISO 9001 certification can help us to issue all quality reports for all inspection. The testing machinery we have is spectrometer, hardness tester, metallographic inspection, tensile strength testing, ultrasonic testing, CMM.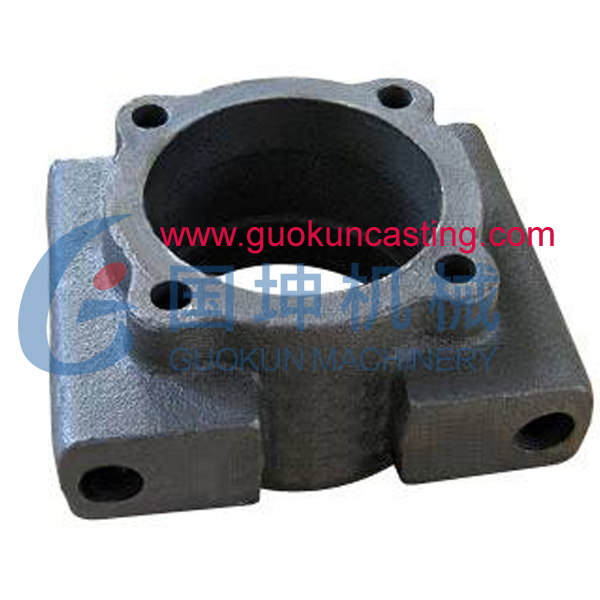 If you require iron casting lathe parts, iron casting lathe components, iron casting lathe body, iron casting lathe base, iron casting lathe back plate, iron casting lathe legs, iron casting lathe bracket, cast iron lathe parts, sand casting lathe parts, please feel free to mail us via gina@guokuncasting.com or gina.guokun@gmail.com or call us 86-18132789710.