Aluminum Die Casting Manufacturer
Die Casting China Foundry, companies of aluminum alloy die casting, zinc alloy die castings, Magnesium alloy die casting components with high quality.
Baoding Guokun Machinery can produce and trade various die casting products in aluminum alloy, zinc alloy, magnesium alloy, mainly support for furniture, engineering, industrial, automotive, municipal engineering, etc
What's die casting process?
Die casting is a metal casting process that is characterized by forcing molten metal under high pressure into a mold cavity. Aluminum die casting is with lightweight, high dimensional stability for complex shape and thin walls; good corrosion resistance; good mechanical properties; excellent thermal and electrical conductivity; retains strength at high temperatures.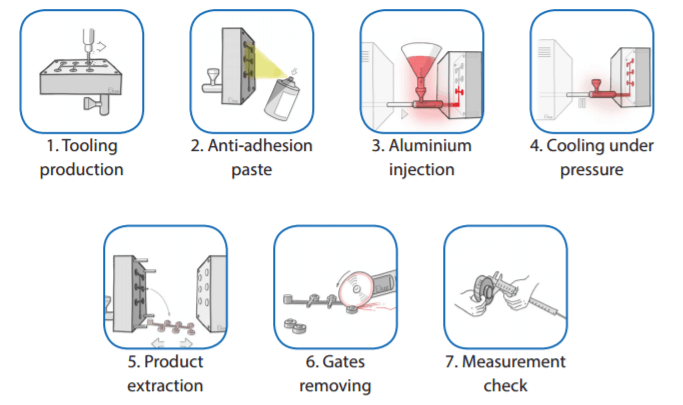 Die casting alloys
Aluminum alloys, such as ADC10, ADC12, A380, A360, 413, 383, B390, etc
Zinc alloys, such as Zamak
Magnesium alloys die casting
Die casting advantages or benefits
1
The dimensional accuracy is excellent, which can achieve the die casting tolerance CT 6 or CT 7 according to ISO 8062.
2
Suitable for small and complex thin-walled parts.

If need simple aluminum alloy die casting parts, we advise to use gravity casting process.

If need large and thin-wall thickness components, it is better to use low pressure die casting.

3
Low unit price in comparison to gravity die casting or sand casting.
4
High production speeds

Compared with sand casting or investment casting, the production speeds of die casting products is very high.
If need die casting products, die casting aluminum alloy, die casting components, aluminum high pressure die casting, aluminum casting parts, aluminum sand casting parts, aluminum die casting parts, aluminum casting parts, aluminum casting products, aluminum casting company, aluminum die cast alloy, die casting products, die casting company, aluminum high pressure die castings,Die casting manufacturer, die casting company, China aluminum die casting manufacturer, China aluminum die casting supplier, please send your drawings to gina@guokuncasting.com or call us via 86-18132789710.