Ductile Cast Iron Castings
Baoding Guokun is the China professional ductile cast iron casting foundry, factory, company and trading company who mainly produce ductile cast iron casting, ductile iron sand casting, ductile iron shell mold casting, ductile iron mining casting, ductile iron valve casting, ductile iron pump casting, ductile iron agricutural casting as per your drawings or samples. Please mail us your drawings to gina@guokuncasting.com or gina.guokun@gmail.com or call us 86-18132789710.
Sand casting, the most widely used casting process, utilizes expendable sand molds to form complex, metal parts that can be made of nearly any alloy. Baoding Guokun casting factory can offer the custom sand casting in the following metal:
Gray iron sand casting, such as ASTM A48/48M, ASTM A159, BS EN 1561, DIN 1691, etc
Ductile iron sand casting, such as ASTM A536, BS EN 1563, GB/T 1348-1988, etc
Carbon steel sand casting, such as ASTM A29/A29M(1030, 1040, 1045, 1050, etc)
Alloy steel sand casting,  such as SAE J1249 (4140, 4340, 8140, 8630, etc)
Stainless steel sand casting, such as ASTM A959 (304, 316, 316L, etc)
Aluminum sand casting, such as ASTM B85-96(ASTM A356, A360, A383), JIS H5302:2000(ADC10.1, ADC12, etc), GB/T 15115-1994(YL102, YL112, etc)
Bronze sand casting
Sand casting process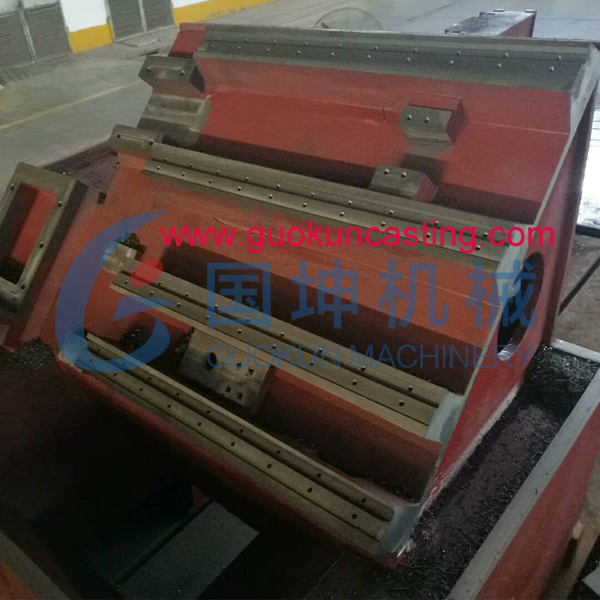 If you need custom cast iron components, cast steel parts, please do not hesitate to contact us.
Gina: gina@guokuncasting.com 
Tina: tina@guokuncasting.com
Andy: andy@guokuncasting.com
Doris: doris@guokuncasting.com