High leaded Tin Bronze Bushings in C93800, SAE 67, 78-7-15, Cu78Sn7Pb15, CDA 938, ASTM B505, ASTM B271, etc
Baoding Guokun Machinery Co., Ltd is a Chinese professional centrifugal casting and sand casting foundry to manufacture and export various standard and customized bronze bushings, sleeve, bearings, tube, rings, centrifuge bushings, hydraulic parts, impellers, liners, piston rings, pump and valve components, sleeves, steam fittings, etc
Cast High Leaded Tin Bronze C93800 alloys information:
C93800

Chemical Composition

Mechanical Properties

Advantages

Cu%:75.0-79.0; Pb%:13.0-16.0; Sn%:6.3-7.5;




Zn%:0.8max;




Ni%:0.1max

Tensile Strength: 26KSI min




Yield strength:14 KSI min




Elongation:12% min

1.good corrosion resistance




2. One of the most commonly used bearing alloys
Aluminum Bronze bushings, NiAl bronze bushings, high lead bronze bushings are OK for us.
Our standard high lead bronze bushings or sleeves are 1/4, 1/2 inch, 1 1/8, 1 1/4, 1 3/4, 2 inch, 2.75 inch bronze bushings or others. And custom bronze bushings are Diameter from 40 mm to 2000 mm; Weight from 0.1 kg to 5000 kgs, for crusher parts, mining parts, pump and valve parts, industrial bronze castings, etc
Mainly produced by centrifugal casting, sand casting and precision machining to assure you the high precision accuracy, fine surface finish and lower prices.
Any new inquiry of bronze bushings, high leaded tin bronze, cast high leaded tin bronze bushings, high pbsn bronze bushings, custom bronze bushings, sleeve, tubing, rings, liner, or other brass, copper and bronze alloy casting parts, please email the drawings to gina@guokuncasting.com or call us 86-18132789710.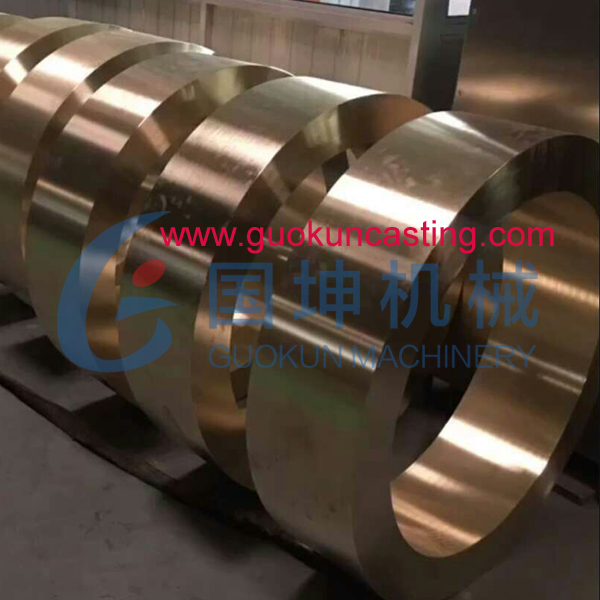 Baoding Guokun Machinery, your good choice of China bronze bushings company, suppliers, manufacturers, factory, casting foundry of C93800, SAE 67, 78-7-15 high leaded Tin Bronze Bushings!