Scaffolding Accessories
Baoding Guokun is the prfessional casting foundry who can mainly produce scaffolding accessories, coupler, jack nut and other construction hardware material as per your drawings and samples.
Pprocess: Shell molding casting, shell moulding casting, also known as precoated sand casting, is an expendable mold casting process that uses a resin covered sand to form the mold. Shell mold casting is the most precision casting process compared to other two sand casting methods, green sand molding process and resin sand molding casting method, very close to investment castings. So shell mold sand casting is usually used to make small to medium size metal casting parts that require high precision.
Jack Nut product information:
| | |
| --- | --- |
| No. | Information |
| Product Name | scaffolding Jack Nut, suitable for u head and jack base scaffolding |
| Material | Ductile Iron QT450-10 |
| Process | Shell mold casting, forging process |
| Diameter | 28/30/32/34/35/38/48mm or as per your requirement |
| Surface | Natural, painted, galvanized, HDG, etc |
| Weight | 0.25-5kg |
Adjustable Screw Jack is consist of Jack Base or U head Jack Base, Screw Rod and Nut. It is used in conjuction with either adjustable steel props or system scaffolding to hold timber beams and formwork accesories in place.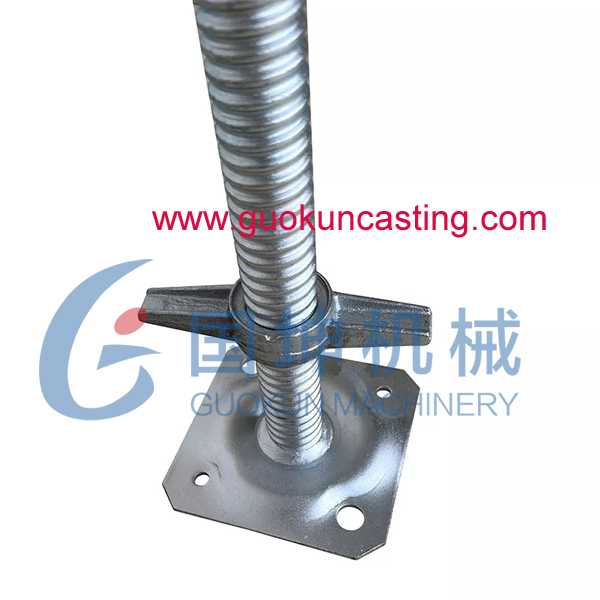 If you need Casting Jack Nut, casting wing nut, scaffolding jack nut, casted jack nut, China jack nut company at low prices, please contact Baoding Guokun Casting Factory via gina@guokuncasting.com or gina.guokun@gmail.com to get competitive prices.