China Forged Bevel Gears Factory, Company, Manufacturer
Baoding Guokun Machinery and Baoding Guokun Export and Import Co., Ltd is a professional supplier and trading company of various bevel gears, spiral bevel gear, wenling spiral bevel gears, helical gears, worm gears and so on. The high quality forging bevel gears could be produced by hot forging and precision machining method, which widely applicated on agricultural machinery, farm equipment, heavy duty truck, medium duty truck, light duty truck, tractor, car, automotive car etc. Baoding Guokun Machinery precision forging gears and hot forging gears are exported to USA, Canada, Germany, Italy, Australia, etc
What's the hot forging bevel gears?
The precision forged bevel gears are used to change the direction of a shaft's rotation. Our forging bevel gears have different teeth type, straight, spiral and hypoid. The straight teeth have similar characteristics to spur gears and also have a large impact when engaged. And we have much more experience to produce the spiral bevel gears.
Please email us your drawings to gina@guokuncasting.com. Thus, our engineers can quote the cheap prices accordingly and quickly.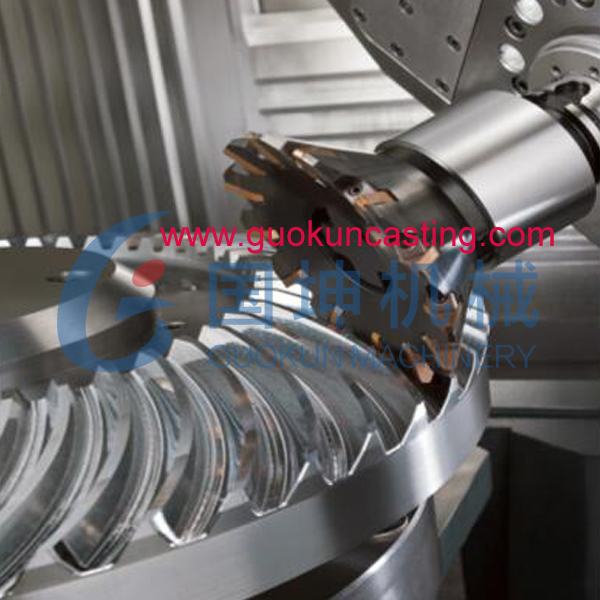 Information of our forged steel bevel gears:
1.     Material

Various forging steel, carbon steel, alloy steel, special steel, etc

Please tell us the steel you required. The most common material we use for drop forged gears is 1045.

2.     Process

Mostly, we use hot forging or drop forging to make the forged gear blanks firstly, then precision machining all teeth and holes to get the high accuracy. But if you need, we also do the near net forging gears to save material and cost.

3.     Special gears

If your gears is too special for hot forging or drop forging, we also can offer sand casting or investment casting process.
If need more competitive prices forged bevel gears, hot forged bevel gears, drop forged bevel gears, near net forged gears, Forging gear blanks, forged transmission gears, forged steel gears, precision forged gears, forging steel gears, please do not hesitate to contact Baoding Guokun Machinery Co., Ltd or Baoding Guokun Export and Import Trading Co., Ltd.