Forged Aluminum Tubes
Baoding Guokun Export and Import Trading Co., Ltd is a casting factory and forging exporter of custom metal components, hardware, steel forging, carbon steel forging, stainless steel forging, alloy steel forging parts, aluminum forging tubes, forged aluminum tubes, forging aluminum tubes, blocks, rings, discs, bars, etc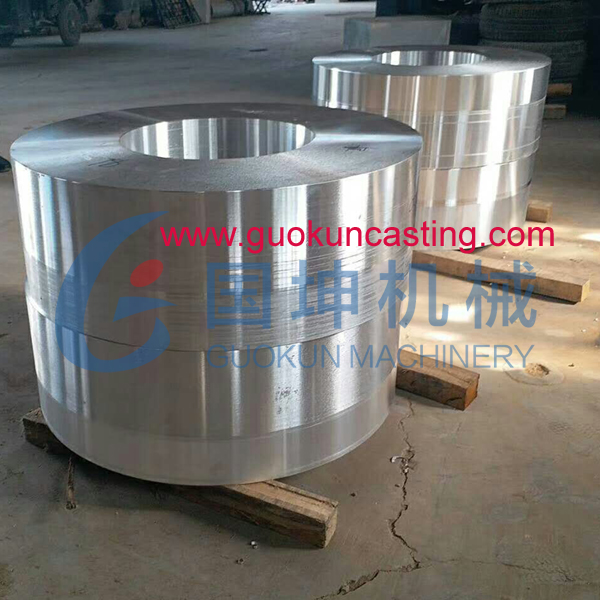 Aluminum Forging Rings
Baoding Guokun Machinery Co., Ltd can supply and export various aluminum forging rings, hubs, discs, round bars, flat bars, step shafts, blocks and other custom metal forgings, forged by our open die forging process, close die forging process and rolled ring seamless forgings.
Forging metals of our custom forged components:
Aluminum forgings: 6061, 6063, 6082, 7075, etc
Steel Forgings: carbon steel forging, alloy steel forged components, stainless steel forgings, tool steel forgings, especially die block for aluminum die casting mold or plastic mold, such as 1045, 4140, H13, etc
Brass, copper and Bronze forgings
Compared with steel forging parts, high strength aluminum alloys can assure the tensile strength while providing significant weight advantages. So aluminum forged parts are mainly used in aerospace, automotive industry and many other fields of engineerings.
Please send your drawings to Baoding Guokun Machinery via gina@guokuncasting.com , your professional China forging company, supplier of aluminum forging ring, aluminum forging shaft, aluminum forged discs, forging aluminum blocks, etc