Custom Sand Casting
Baoding Guokun can produce and export custom sand casting, resin sand casting, shell mold casting and precision machining components as per your drawings and samples.
Sand casting, the most widely used casting process, utilizes expendable sand molds to form complex, metal parts that can be made of nearly any alloy. Baoding Guokun casting factory can offer the custom sand casting in the following metal: custom sand casting, China sand casting, China custom sand casting, China iron sand casting, China steel sand casting, China aluminum sand casting, cast iron sand casting, ductile iron sand casting, grey iron sand casting, carbon steel sand casting, alloy steel sand casting, stainless steel sand casting, aluminum sand casting, brass and bronze sand casting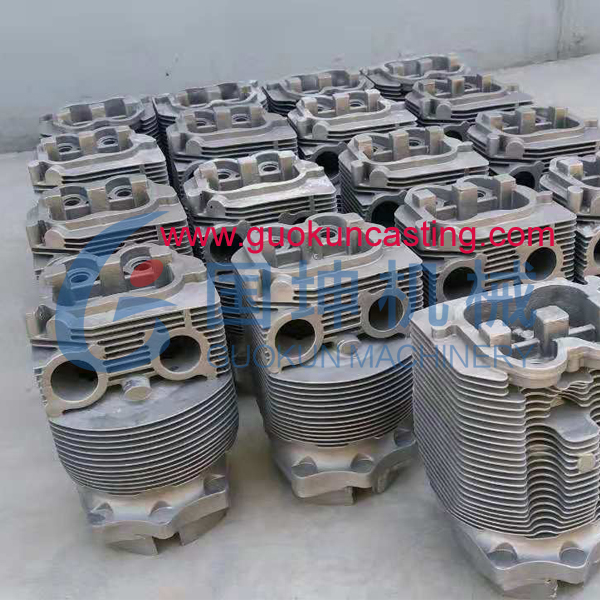 Shell Mould Casting is an expendable mold casting process that uses a resin covered sand to form the mold. As compared to sand casting, this process has better dimensional accuracy, a higher productivity rate, and lower labor requirements. It is used for small to medium parts that require high precision. Shell mold casting is a metal casting process similar to sand casting, in that molten metal is poured into an expendable mold. However, in shell mold casting, the mold is a thin-walled shell created from applying a sand-resin mixture around a pattern. The pattern, a metal piece in the shape of the desired parts, is reused to form multiple shell molds. A reusable pattern allows for higher production rates, while the disposable molds enable complex geometries to be cast. Shell mold casting requires the use of a metal pattern, oven, sand-resin mixture, dump box, and molten metal.
Our custom sand casting usually used for agricultural casting, pump casting, valve casting, mining casting, farm casting, tillage casting, truck casting, tractor casting, industrial casting, etc
If you have new inquiry of custom sand casting, please contact us via gina@guokuncasting.com or gina.guokun@gmail.com or call us 86-18132789710.