Custom Machined Bronze
Baoding Guokun Machinery is the professional China CNC custom machined bronze components, bronze parts, machined bronze accessories, custom bronze fittings, bronze bearing shell, China bronze bushings and other custom bronze parts as per your drawings or samples.
Baoding Guokun Machinery can produce various bronze, brass & copper alloys to be bushings, sleeve, bearings, tubing by centrifugal casting and precision machining, including Leaded Tin Bronzes, Aluminum Bronzes, Manganese Bronzes and No Lead Bronzes.
We can supply you the following bronze bushings or nuts.
Capacity for our centrifugal casting
Products
I.D.(mm)
O.D(mm)
Height(mm)
Bushings
30-2800
60-3500
20-4000
Nuts
100-1000
150-2500
20-3500
1.Workblank weight under 5000 kgs
2. Net weight under 3000kgs
3.Other special shaped parts can use sand casting or forging method.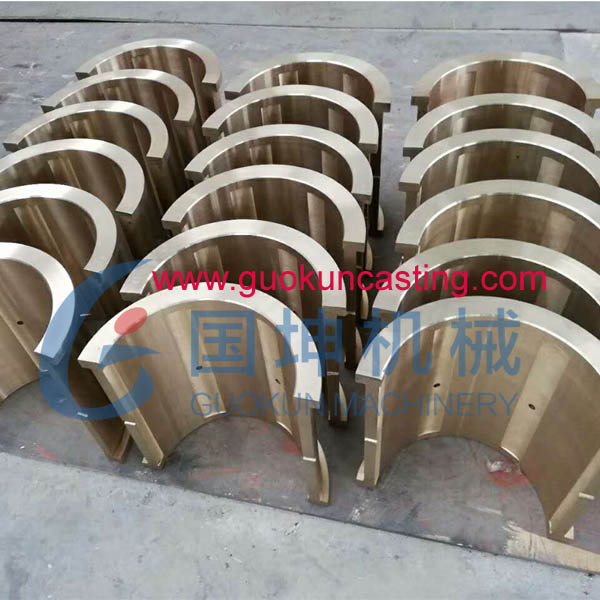 Material: Bronze, Brass, Aluminum Bronze, Tin Bronze, Manganese Bronze, High-Lead Bronze, etc
Process: Sand Casting, centrifugal casting and precision machining; we can cast the parts from DIA 40mm to DIA 2000mm, and the weight from 0.1kg to 5000 kgs.
If you have similar inquiry of custom bronze fittings, custom bronze parts, custom bronze components, China bronze fittings, China bronze parts, China bronze components, OEM bronze fittings, OEM bronze parts, OEM bronze components, please contact us via gina@guokuncasting.com